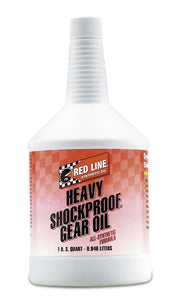 REDLINE: Shockproof Gear oil (58204)
Regular price $22.00 Sale
Red Line ShockProof Gear Oil is a unique lubricant containing a suspension of solid microscopic particles as an extreme pressure agent--unique solid dispersion which cushions gear teeth to help prevent tooth breakage and allows the use of lower viscosities.

Acting like a liquid grease, the viscosity characteristics of Red Line ShockProof allow the lubricants to resist throwoff and provide the protection of a greater film thickness with relatively light fluid viscosity, offering a "best of both worlds" balance of low drag and superior protection.

Red Line ShockProof products work in a variety of differential and transmissions, however, should not be used with pumps, filters, and with small lines--these fluids are designed wet sump or splash type lubrication.

This product dampens transmission noise (reducing the notorious shifting "clunk" found in these gearboxes), dramatically reduces temperature, provides thicker oil films between gear teeth and completely resists throw-off. It is compatible with petroleums and synthetics.

The viscosity characteristics allow the lubricant to resist throwoff and provide a film thickness similar to a 75W250 grade, while providing the same low fluid friction as an SAE 75W90.


PRICE IS PER QUART.