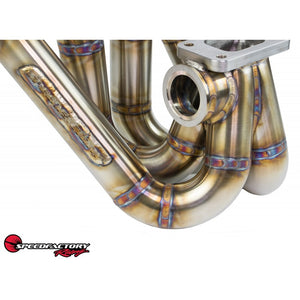 SpeedFactory Racing Top Mount Turbo Manifold
Regular price $999.99 Sale
The SpeedFactory Racing Top Mount Turbo Manifold was designed to spool larger turbos very quickly, producing broad powerbands that carry to the top of the RPM range. This manifold is for high power applications where large torque and great spool are necessary alongside big top-end horsepower, making it suitable for drag race vehicles.
Our Top Mount is constructed from high quality 1.5" Schedule 40 stainless steel, and is TIG-Welded and back purged to ensure that you are receiving the highest quality product possible. Our cylinder head, wastegate, and turbine inlet flanges are CNC machined from ½" plate 1018 Steel and all mating surfaces are machined flat ensuring a perfect seal.
The SpeedFactory Racing Top Mount Turbo Manifold is available in many wastegate configurations; please view the dropdown menu for all options.